Backdrops
Whether you're holding a political rally, an issue advocacy press conference, or a holding a product launch, you want to get your name out in front of your audience. Backdrops should have one simple message, YOU! Backdrops are produced with solitary goal in mind: television coverage. Despite the room full of people, from supporters to reporters, your targets are the people watching your event on CNN and the people seeing the AP photos tomorrow's newspaper. Don't miss an opportunity to get your name out in front of the press and public. All the things you did right are meaningless if you have a backdrop at your event that doesn't read on television.
Our Broadway and Fine Cloth backdrops are union-printed, non-reflective, and wrinkle-free. Note that the Broadway cloth when viewed up close can show a little bleed (blurriness). When viewed from 10' it won't really matter much if there is bleed. But we can get a sharper image by using our Fine Cloth so the small detail stays a little crisper. Since the fine cloth is thinner it includes an opaque liner to prevent light bleed. For a permanent installation consider a solid board backdrop (delivered as 8'x4' panels).
The below prices are ballparks for your guidance, please contact us during your planning stages to ensure proper planning and pricing.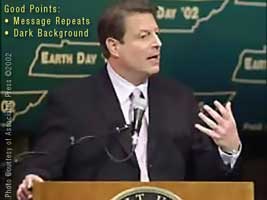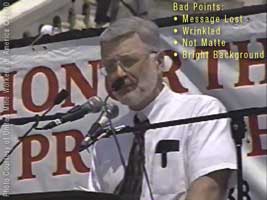 $21/sq ft
$25/sq ft
$25/sq ft
$18.50/sq ft
$22.50/sq ft
$22.50/sq ft
$18/sq ft
$22/sq ft
$22/sq ft