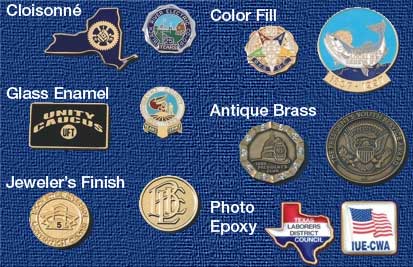 Lapel Pins & Cloisonné Pins
The classiest of donor gifts. A true piece of jewelry for those very special occasions or recognition of an outstanding job. From interpretation to design, through final hand polishing and finishing, this pin is a truly a work of art. Each piece is painstakingly hand made and inspected perfection by union labor in the USA.

Jeweler's Hand Charged Cloisonné Glass Enamel Lapel Pins are a centuries old form of glass enameling providing the highest quality lapel pin available.

Premium Hand Charged Synthetic Glass Enamel Lapel Pins are the "new age" look of glass enamel—duplicating the quality and appearance of glass enamel. Most commonly used throughout the industry—fast replacing cloisonné.

Jeweler's Finish Lapel Pins are sandblasted matte/frosted background with polished highlights.

Colorfill Enamel Lapel Pins are painted with an epoxy enamel, hand applied, and air cured.

Antique Finish Lapel Pins are oxidized for that antique look and hand relieved.

Photo Decal Epoxy Dome Lapel Pins are the best value lapel pin available. Photographed through a special process to develop a label which is applied to a brass base with a clear epoxy dome added to create the final pin.
$350
Up to 1"
$5.89
$4.19
$3.79
$3.39
$2.99
$2.89
Up to 1¼"
$6.19
$4.49
$4.19
$3.79
$3.39
$3.19
$350
Up to 1"
$3.69
$3.29
$2.99
$2.79
$2.59
$2.39
Up to 1¼"
$4.09
$3.69
$3.29
$3.19
$2.99
$2.69
$350
Up to 1"
$2.99
$2.59
$2.39
$2.29
$2.19
$2.09
Up to 1¼"
$3.09
$2.69
$2.59
$2.49
$2.39
$2.29
$350
Up to 1"
$2.79
$2.49
$2.29
$2.19
$2.09
$1.99
Up to 1¼"
$2.89
$2.59
$2.39
$2.29
$2.19
$2.09
$350
Up to 1"
$2.79
$2.39
$2.19
$2.09
$1.99
$1.94
Up to 1¼"
$2.99
$2.59
$2.39
$2.29
$2.19
$2.09
$135
Up to ¾"
$2.99
$2.09
$1.69
$1.49
$1.44
$1.39
Up to 1⅛"
$3.39
$2.39
$2.09
$1.89
$1.79
$1.74